River Tay Salmon Fishing Guide
Welcome to our newsletter page where River Tay salmon fishing updates will be entered on an ongoing daily basis.
Learning how to fish for salmon correctly is a very important factor as a salmon fishing permit on its own is valueless without the water knowledge, fishing ability & correct salmon fishing equipment levels.
We hope you'll book a guided River Tay salmon fishing experience and become an entry on this web page.
Jock Monteith
14 Dec 2015
Famous Salmon Pools Of Scotland
Here's an upstream shot taken from the new Caputh road bridge of the world famous Boat Pool on Glendelvine water on the River Tay. For those of you who are new to Scottish salmon fishing and its history this is where the British rod caught salmon of 64lbs was caught during October 1922 by Georgina Ballantine. The video on the homepage of this website shows more of this fantastic fly fishing pool when Sky Sports paid the Tay a visit.
13 Dec 2015
Looking For A Taking Salmon
Staying quietly optimistic while fishing for salmon and making sure your fly coverage of the pools is consistent and evenly spaced will eventually place you in front of a taking salmon. Knowing how to react to the take on the fly is one of the most uninformed aspects of the sport with most anglers lifting into salmon which logically places little effective pressure on the hook points. It can sometimes take a while to reach that point in salmon fishing so it's important to understand how to be effective.
12 Dec 2015
Fishing The River Tay During Early Spring
Salmon fishing during early Spring requires an understanding of the caliber of salmon that are present in the river at this time. Professional guides & ghillies know exactly what I mean here but it can be a bit daunting for the newcomer who doesn't fully understand the prize that is achievable. Ignore the cooler weather and listen to the advice of an experienced Tay ghillie and persevere with your coverage of the water. If you do then it will be only a matter of time before you locate a prized Spring salmon like this one.
11 Dec 2015
Salmon Fishing Events
A professional Michelin starred chef can be brought in for the bigger client event days to serve a perfect lunch in the fishing hut as you see here. A corporate salmon fishing event includes 3 professional guides and 'exclusive use' of one of the River Tay's top salmon fishing venues. There's something really fantastic about coming into the fishing hut at lunchtime for a proper & delicious meal.
10 Dec 2015
River Tay Spring Salmon
There's always a good chance of a salmon with a carefully fished fly during the higher water levels of early Spring. This fine Spring salmon was hooked ten feet from the bank on a cold high water Spring day and was this client's first ever salmon. In the higher water conditions it's usually a short line with a well controlled fly that gets results like this even though it's human nature to want to cast your fly as far as possible.
9 Dec 2015
Fishing The Fly For Salmon
Here's a beautiful shot of a salmon fly fisher working his way down through some highly attractive middle Tay fly water. When space is restricted like you see here it is always helpful when the riverbanks have been cut which allows easy Spey casting and movement. A well groomed salmon beat is not only easier to fish but it shows you that the resident ghillie takes great pride in his work.
8 Dec 2015
A River Tay Spring Salmon Fishing Experience
Here's an absolute beauty of a Spring salmon from last March on the River Tay. These early Spring fish are in a class of their own and are very much the top prize in Scottish salmon fishing. The Tay has fished consistently well during the Spring months in recent years. Treat yourself or a colleague to a fully guided River Tay salmon fishing experience during the Spring of 2016. Gift vouchers are available now from this website.
7 Dec 2015
Releasing River Tay Salmon
The sensible practice of releasing salmon should not take too much explaining to anyone with a conservationist outlook in life. This perfect 27 lbs River Tay Spring salmon had given me the ultimate high and lovely photographs after a powerhouse display that lasted a full half hour. All spawning salmon these days are vital for future salmon stocks and in my opinion should be fully respected.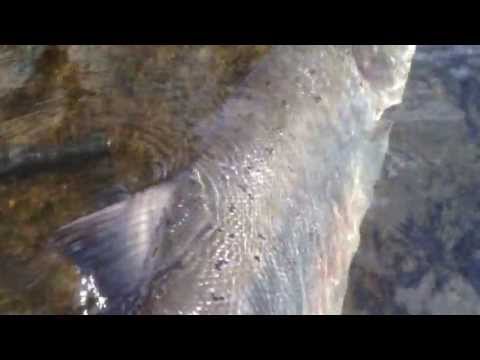 6 Dec 2015
A Guided Salmon Fishing Experience Gift
Treat a loved one to a fully guided & instructional salmon fishing experience for Christmas. When it comes to gift that involve a great dose of fresh air in some of the finest available Scottish river environments then a salmon fishing experience is one of the very best gifts available. In addition to this being taught by a River Tay professional salmon guide will vastly reduce the normal learning curve and provide a real chance of success like you see here.
5 Dec 2015
Staying Back From The Salmon Lies
Stealth is a big factor in salmon fishing as all too often a pool and the chances of a taking salmon can be ruined by deep wading or a clumsy approach. If you study this photograph you'll clearly see that the fly is being fished along the edge of the deep water and the angler is well back from this salmon lie. In a situation like this wading too deep or starting with a long line will only diminish your chances of success.